With One Voice: Hymns and Choral Works of the Reformation Era
June 11, 2017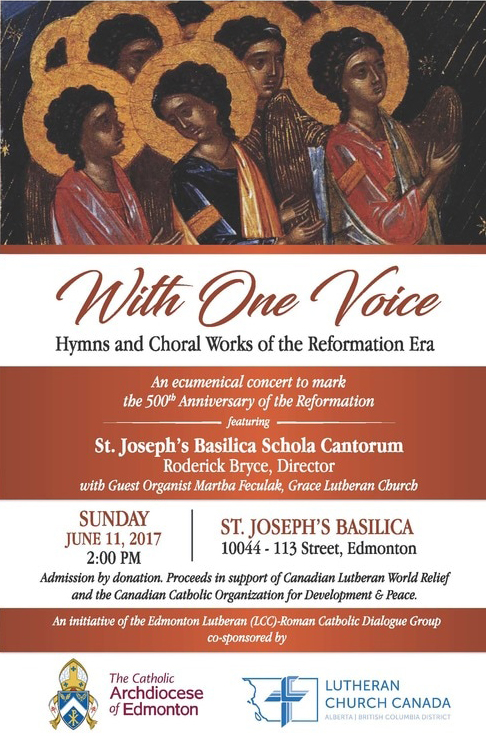 EDMONTON – The Alberta-British Columbia District of Lutheran Church–Canada (LCC) and the Roman Catholic Church's Archdiocese of Edmonton are sponsoring a joint concert to commemorate the five-hundredth anniversary of the Reformation in 2017. "With One Voice: Hymns and Choral Works of the Reformation Era" is scheduled for June 11, 2017 (2:00 p.m.) at St. Joseph's Basilica in Edmonton.
"The year 2017 marks the 500th anniversary of the Reformation," notes promotional material for the event. "In the past, Reformation anniversaries were often characterized by animosity and discord, especially between Catholics and Lutherans. Today, as a result of ecumenical work over the past 50 years, Lutherans and Catholics enjoy an unprecedented level of mutual understanding, cooperation, and respect. The year 2017, then, challenges our churches to find life-giving ways to commemorate this historical event together."
Admission is by donation, with proceeds going to support Canadian Lutheran World Relief and the Canadian Catholic Organization for Development and Peace.
The joint concert is an initiative of the regional Edmonton Lutheran (LCC)-Roman Catholic Dialogue Group. It will feature music by St. Joseph's Basilica Schola Cantorum, with Roderick Bryce as director. Martha Feculak of Grace Lutheran (Edmonton) will feature as guest organist.
Lutheran Church–Canada and the Roman Catholic Church have been in dialogue on a national scale since 2013, with the regional dialogue in Edmonton starting soon thereafter. These Canadian dialogues are complemented by international discussions taking place between the Pontifical Council for Promoting Christian Unity and the International Lutheran Council (ILC), of which LCC is a member. At its most recent world conference, the ILC adopted a statement on the document From Conflict to Communion, writing that "confessional Lutherans are obligated to cooperate in overcoming the divisions within Christianity in the spirit of biblical truth and Christian love."
———————
---
Location
St. Joseph's Basilica
10044 113 St NW | Edmonton, Alberta
---